The Simon Team
Our team of pioneers are the key to our success – they are also among the most skilled and hard-working in the industry. We are proud to offer our employees a safe work environment, learning, development, and growth opportunities, and access to an industry-leading benefits package.
WE ARE LOOKING FOR PIONEERS
Our dedicated teams of construction professionals build the roads and bridges that connect communities. With a solid foundation of core values, we get the job done – safely.
Best Benefits in the Industry
Best Benefits for the Best Employees
Simon employees are among the best in the industry - we are proud to offer them, and their families, some of the best benefits in the industry, including medical, dental, and vision insurance, life and disability insurance, 401(k) savings with company match, paid time off, and other benefits, programs, perks, and discounts! Better yet, while some of our positions are seasonal, benefits are available year-round.
Exceptional Safety Culture
Goal Zero
We value each employee, and our goal is to achieve zero incidents through visible leadership and engaging the hearts and minds of all employees to make decisions that lead to a positive culture of safety excellence.
Learn More
Learning & Development
Build your career with access to learning systems and real-time training.
Simon offers multiple opportunities for employees to learn new skills and strengthen existing talents, online, in the classroom, and out in the field.
Career Growth
Career opportunities that can take you as far as you are willing to go.
As part of the Colas group of companies, Simon employees have access to career opportunities across the United States, Canada, and the globe.
Learn More
COMPLETING AN ONLINE APPLICATION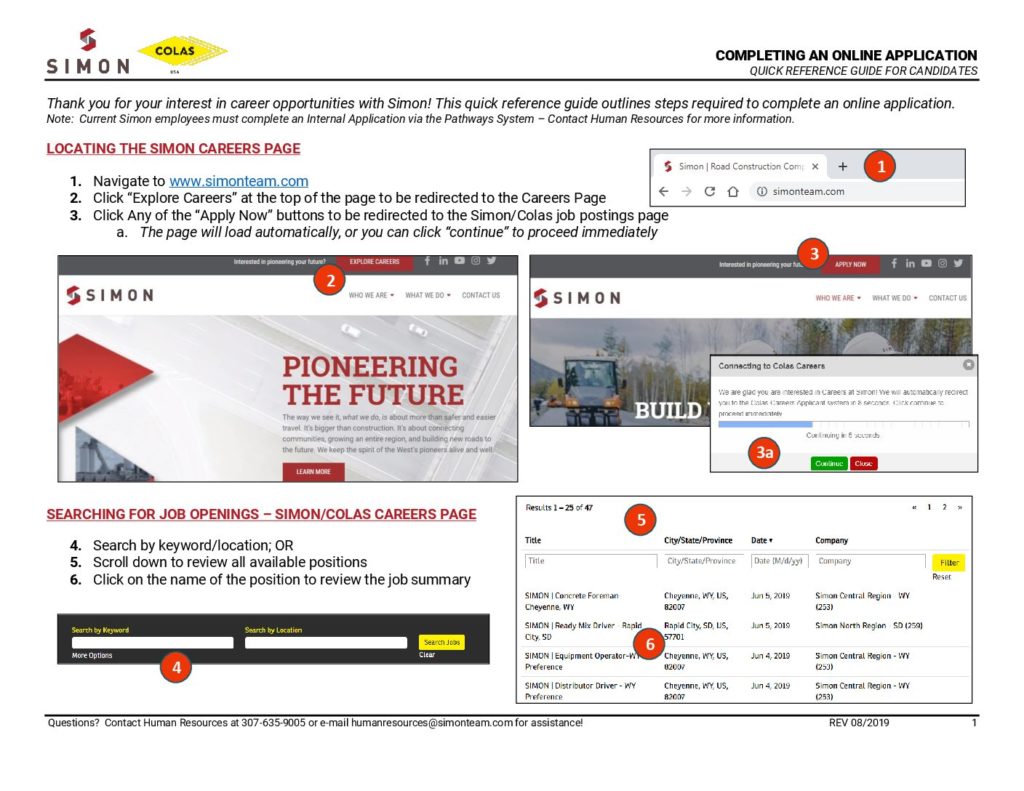 Thank you for your interest in career opportunities with Simon! Interested in the required steps to complete an online application?
Click here to view our online application quick reference guide.